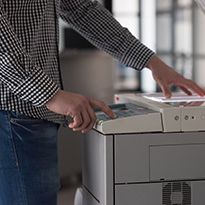 Wide Range of Copying Services
Our professional staff and latest equipment allow us to offer a wide range of copying services. From basic copies and flyers to custom orders. We can help you attract customers with full color, edge to edge printing on all our products such as business cards, posters, flyers, menus and much more!
Our friendly staff will make sure you are well taken care of every step of the way, and make sure the prints you get are the best possible quality.
To order copies, click here to contact us